Record and store your telephone conversations
You can certify and store both the calls made and received, as well as the call attempts with Burovoz.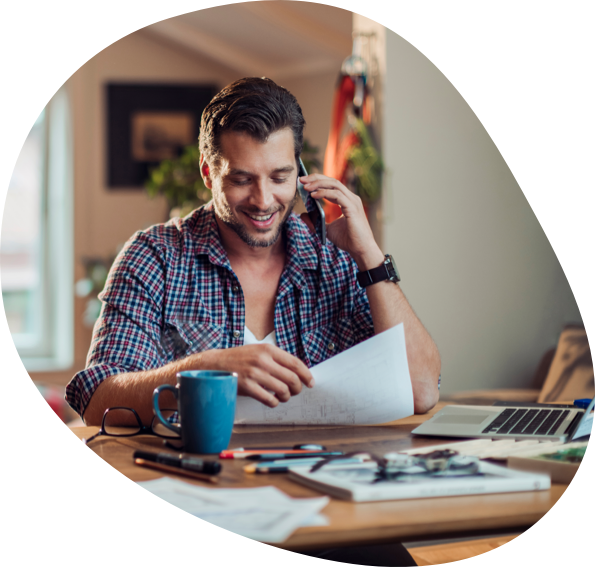 Do you know how it works?
01
The user starts a call from his phone through Burovoz.
02
The recipient receives the call and Burovoz records it.
03
When the call ends, its recording is saved in a format that allows voice biometrics.
04
The user receives the certificate of the phone call.
Evidence generation
Each year in Spain, more than 1.5 million claims are filed in consumer offices, almost 100,000 people suit for divorce and a large group of labor issues is tried before courts.
Call recording and certification
Both individuals and professionals can access Burovoz to record and certify their calls.
Security in all your recordings
All your call recordings have full legal security and respect the fundamental right to the secrecy of communications.
Certify and store your calls wherever you are with Burovoz App
Everything you can do with Burovoz now you can do it from your mobile phone. Install the application on your mobile device (iPhone or Android) and sign up for the service. Once you have done so, you can access your contacts to record and certify calls and call attempts, all this from your mobile.
Without engagement or monthly payments. Pay as you go.

Voice recording in a format suitable for biometric matching.

You can even record your call attempts.

Maximum sound quality.

Recording with channel separation for each caller.
And for your company, also Burovoz
Record, file, custody, and certify the outgoing calls of the extensions of your company with total security. In addition, you'll have legal support in all actions carried out from your company extensions.
The service is set on your corporate switchboard.

Transparent service for users.

Calls are diverted to our service.
A warranty service
Authenticity and integrity
We assure the authenticity and integrity of your conversations, always respecting the fundamental right to the secrecy of communications, thanks to the evidence generation and its custody. All conversations certified with Burovoz will be admitted in evidence in legal or administrative processes.
Burovoz service includes:
Guarantee of the integrity of the call, ensuring that it has not been altered.

Time stamp, providing evidence of the day and time it occurred.

Certification guaranteeing the custody and authenticity of the digital recording.

Identification of both caller and recipient telephone numbers.

The highest recording quality.

Separated audio channels for each interlocutor.

Voice biometrics suitable for expert evidence.