To meet these needs and the obligations of regulatory compliance and probative effectiveness, the EU-wide eIDAS Regulation came into force.
What is the eIDAS?
eIDAS is an acronym for Electronic IDentification (eID) and Authentication and trust Services (AS).  The eIDAS Regulation provides a single framework to ensure that the electronic interactions between companies, citizens and public administrations are more secure and efficient, which facilitates the provision of business services throughout the EU.
Logalty has been a Qualified Trust Service Provider since July 2018 and it has provided services with which to identify clients in accordance with the KYC guidelines on money laundering.
What does the eIDAS bring to the financial sector?
The financial services sector is one of the greatest potential beneficiaries of electronic identification and trust services, as they facilitate significant business opportunities and improve services among different EU countries.
Know Your Customer (KYC) in remote services: reliably verifying the identity of customers not physically present, while meeting the money laundering prevention requirements.
Qualified signature to remotely sign financial service agreements with customers.

Registered electronic delivery for the quick and secure exchange of important documents, such as contractual agreements.
Logalty & eIDAS
Logalty provides the following services: qualified electronic signature, qualified electronic seal, qualified  time stamp and qualified electronic certificate delivery. It also has operator-assisted video-identification services, unassisted video-identification services and ID document validation services.
eIDAS & Logalty in practice
How the qualified trust services provided by Logalty can help in a practical use case of agreement formalisation in different EU countries.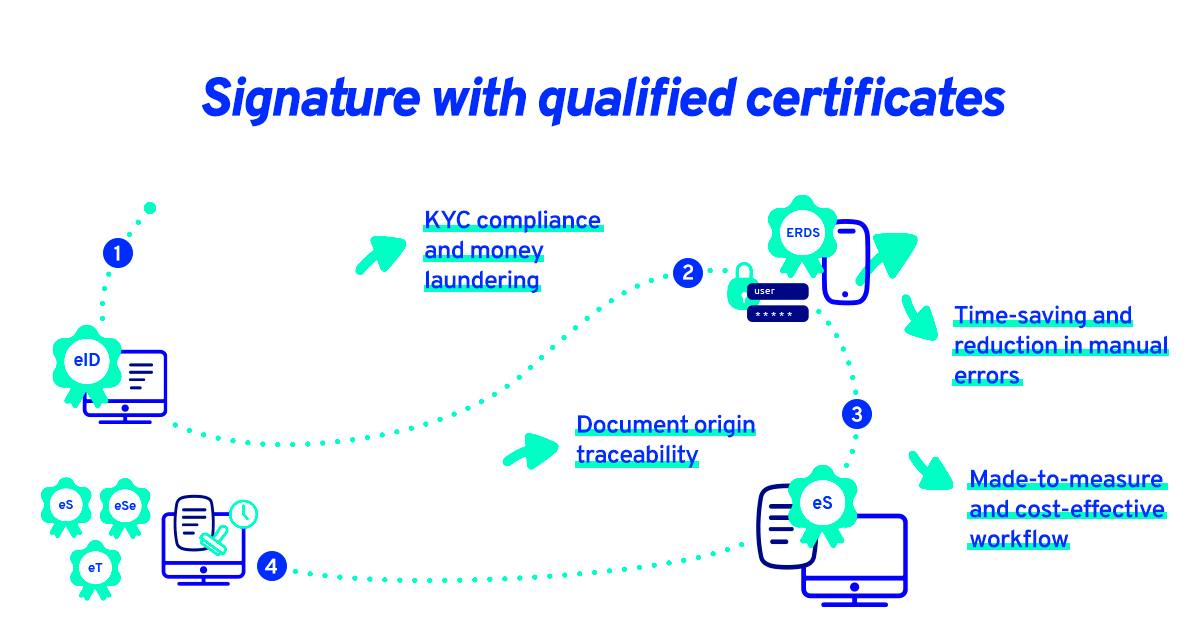 An entity has a client in Europe that wants to engage several financial services
KYC compliance and money laundering
1. Using eID – qualified certificate of the entity –  the identity of the client is verified and the entity can obtain his/her credit score to start the processes.
The identity or eID of the client can be verified through a qualified certificate or video-identification.
Time-saving and reduction in manual errors
2. Through Logalty, as a qualified eIDAS trust provider, the entity sends the client the documentation with registered delivery (ERDS).
Made-to-measure and cost-effective workflow
3. The client uses the Logalty platform to sign the agreements.
Logalty creates electronic evidence by intermediation.
Document origin traceability
4. Logalty sends the time-stamped formalisation seal with registered delivery.
Daniel García
Identity and Trust Services eIDAS Manager